Located in Waterford Maine.
Sharrison Studios is a professional art studio in Waterford Maine. Specializing in mural painting and tile mural art, Sharon and Preston Harrison bring new life to rooms, ceilings, and other areas that benefit from large murals.
From decorative tile art, to holistic/healing wall murals, the artisans at Sharrison studios offer premier services that are sure to meet, and exceed, your expectations.
Sharon and Preston Harrison are nationally known commissioned artists with a very diverse portfolio of murals, tiles and artwork. Working individually and together and often working on the same mural or canvas, they have created mural paintings for donor recognition charities, supermarkets, retail stores, restaurants, hospitals, churches, private residences, schools and universities.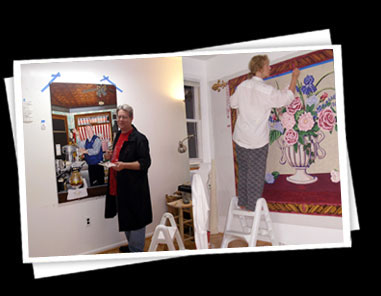 In private homes, the artists have painted nursery murals, children'srooms, dining rooms, living rooms, bathroom, kitchens, wine cellars, family rooms, and ceilings. Their murals are created on walls, ceilings, canvases, foam board and tiles.
In addition to their mural art, Sharon and Preston are also known for their Fine Art works of portraits, pet portraits, pen and ink, watercolor and acrylic paintings. Their paintings have been seen at Ellarslie, the Trenton City Museum, New Jersey State Museum, Phillips Mill, Prallsville Mills, Artworks, Gallery 125, Princeton University, Thompson Memorial Presbyterian Church, Philadelphia College of Art, Mercer County College, and in numerous private collections.
To learn more, or to contact one of the artists, contact Sharrison Studios today!